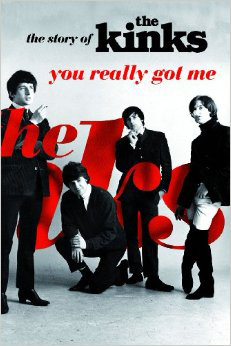 ***ENGLISH VERSION BELOW***
The Kinks brukar ofta puttas åt sidan som "det fjärde" av sextiotalsbanden med Beatles, Rolling Stones och The Who på medaljplatserna. Detta är rätt så orättvist, med tanke på vad norra Londons största rocksöner faktiskt har uträttat. Först slog man igenom med singlarna You Really Got Me och All Day And All of the Night, sedan blev man ett mer betraktande, lyriskt betagande band med låtar som Dead End Streets, Sunny Afternoon och i synnerhet den undersköna megaklassikern Waterloo Sunset, därefter gjordes en rad konceptalbum med tillhörande teatrala scenshower (undertecknad är särskilt förtjust i de båda Preservation-volymerna från 1973 och -74) och slutligen blev man till sin egen förvåning ett jätteband i USA, där man kring sena sjuttiotalsalbum som Misfits och Low Budget sålde ut de största arenorna. Under resans gång lyckades gruppen, kretsande kring bröderna Ray och Dave Davies, delta vid skapandet av hårdrocken, bli föregångare för punkare och britpoppare och fightas till hatets rand. Notera också att Kinks mellan åren 1964 och 1989 gav ut album nästan vartenda år, inte sällan två gånger per år.
Den här boken berättar alltihop på ett ovanligt bra sätt. Ovanligt bra tack vare att författaren lägger sitt allra mesta krut på det viktiga – musiken. Jodå, nog omtalas brödernas alla misslyckade äktenskap (varav Rays tid med Pretenderssångerskan Chrissie Hynde väl är det mest kända), visst omtalas promiskuöst leverne, psykiska sammanbrott, Daves stroke och incidenten då Ray blev skjuten i benet, men dessa företeelser hamnar tacknämligt vid sidan om, för att istället skjuta fokus på bandets – i synnerhet Rays – mästerliga konstnärliga bana. Varje album granskas på djupet avseende vilka musikaliska influenser som står att finna och inte minst vad i sin omgivning som den ständigt observante (men inte alltid lika sympatiske) Ray lagt under luppen den här gången. Källmaterialet är oftast förstahands, då Nick Hasted har intervjuat båda bröderna och en rad sidofigurer, och boken är befriande fri från de felaktigheter som skymmer alldeles för många liknande böcker. Det enda galna jag hittar är att en dansk stad skulle gå under det engelskklingande namnet Fredericksburg.
The Kinks are often pushed aside as the "fourth" of the sixties bands with The Beatles, The Rolling Stones and The Who on the medal spots. This is rather unfair, considering the amount of work North London's greatest sons have actually done. First the breakthrough with singles You Really Got Me and All Day And All of the Night, then the more considerate, lyrically captivating songs like Dead End Streets, Sunny Afternoon and in particular the exquisitely beautiful mega-classic Waterloo Sunset , then ​​a series of concept albums with accompanying theatrical stage shows (I'm particularly fond of the two Preservation acts from 1973-74), and finally the surprise development into a giant band in the USA, with late seventies albums like Misfits and Low Budget and sold out stadiums. Along the way, the group around brothers Ray and Dave Davies participated in the creation of heavy metal, they became precedent for punks and brit pop and and they fought like hell. Add that between 1964 and 1989 the Kinks released an album almost every year, often twice a year.
This book tells it all in a remarkably good way. Unusually good thanks to the author focusing on what matters most – the music. Sure, he speaks of the brothers' all failed marriages (including Rays time with Pretenders singer Chrissie Hynde), he mentions promiscuous lifestyle, mental breakdown, Dave's stroke and the incident when Ray was shot in the leg, but these phenomena end up creditably on the side, and instead focus lies with the band's – particularly Ray's – masterful artistic career . Each album is reviewed in depth, with respect to musical influences to be found as well as what surroundings the ever-observant (but not always likeable) Ray puts under the microscope. The source material is usually first-hand, as Nick Hasted has interviewed both brothers and a number of side characters, and the book is liberatingly free from the errors that obscure way too many similar books. The only craziness I find is a Danish city under the very Anglo-sounding name of Fredericksburg.
9/10
Daniel Reichberg