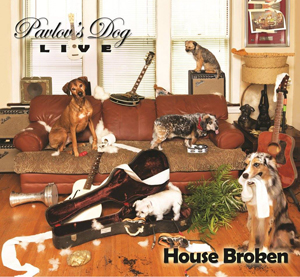 Hello the Seventies, ja här landar en 70-tals mix på scen med musik i stil/kombinationen Bruce Springsten och Street band/Bob Dylan en dos Ian Hunter plus inslag av tidiga Kansas. David Surkamp presenterar musik från sitt Pavlo`s Dog, solo plattorna och 80-talsbandet HiFi. Inspelningen ägde rum oktober 2015 i Nuremberg/Tyskland och med sju kompetenta musiker får vi en känslan av en intim klubbspelning som jag gärna skulle vilja uppleva. Blandningen av amerikans rock/progressive i en behaglig och lättsamt utförande utan att man måste briljera visar prov på kärleken till sin musik. Denna liveproduktion är utan några s.k "overdubs", vi får det som publiken fick. Gött mos som vi säger i Göteborg, tillställningen filmades och som bonus får vi även en dvd "lite mer som en dokument".
David Surkamp – Vocals, Guitar
Sara Surkamp – Vocals, Guitar
Mike Safron – Drums, Vocals
Nathan Jatcko – Keys, Vocals
Abbie Steiling – Violin, Vocals
Amanda McCoy – Guitar
Rick Steiling – Bass
Pavlov´s Dog – House Broken/Live2015
Rockville Music
1. Cd 1:
2. Echo & Boo
3. Late November
4. Crying Forever
5. Fast Gun
6. Lost In America
7. We All Die Alone
8. Preludin
9. Canadian Rain
10. Standing Here With You
11. Wrong
12. Gold Nuggets
13. Try To Hang On
14. One Of These Days
15. Walk Away
16. Cd 2:
17. Only You
18. I Don't Do So Good W. You
19. Episode
20. Did You See Him Cry
21. Song Dance
22. Valkerie
23. Shaking Me Down
24. Angels Twilight Jump
25. Theme From Subway Sue
26. Julia
27. Dvd Includes All 24 Songs.
https://www.facebook.com/pavlovsdogband/
Betyg: 7/10
Conny Myrberg