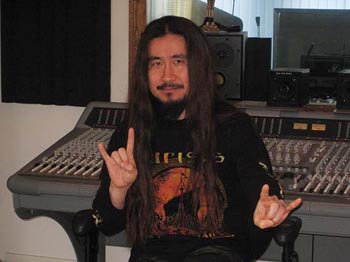 Koh Nishino: Vocals
Taro Arai: Guitars
Makoto Kano: Guitars
Shuji Matsumoto: Bass
Izumi Takeuchi: Violin
Haruna Fukazawa: Flute
Hiroshi Sakakima: Drums

Band Info:
Formed in Nagoya, Japan 1993

Discography:
Faraway Prayers (EP)-2001

Style: Prog Rock/Metal with Celtic elements
Influences: Thin Lizzy, Irish music & the big names of heavy metal like Iron Maiden & Judas Priest. Deep Purple, Black Sabbath & Rainbow.
Website: http://www.bellfast.net/
MySpace: http://www.myspace.com/bellfastband
Twitter: http://twitter.com/bellfastband

The forthcoming album:
Album title: Insula Sacra

Tracks recorded & to be on the record: 11
Inc tracks: Sail Under the Midnight Sun, Viking warrior, The Druid Song, Bell's Air (Intro), That's Ireland, Back to Beautiful Mars, Odin's Call, Winter of Death, Deadly Oath, Celtic Drum,
The Lone Horseman (temporary title), Winds of Ganeration (temporary title)

Song writers: Most music by Shuji Matsumoto & lyrics by our Irish friend Brian Curren.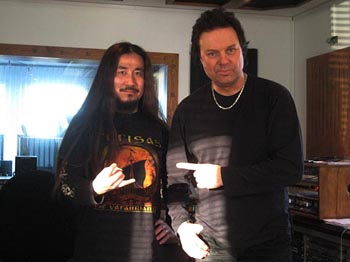 Time in studio:
Time in Sonic Train Studios: Mixing March 1st-5th 2010.Songs recorded in Studio News90,Tokyo 2009
Produced by: Bellfast
Mixed by: Andy La Rocque
Mastered by: Andy La Rocque
Record label: Not yet. But we are talking with both Japanese and European labels at the moment. Hopefully we are signed next month.

Artwork/Album cover: Done by Thomas Ewerhard (AMON AMARTH and THERION etc). It's our concept and he did like we wanted it to. It's a great cover.
Release date: Hopefully in June/July 2010
Video: I really want to make a video. Hard to pick which one to make but I think Deadly Oath would be a good one.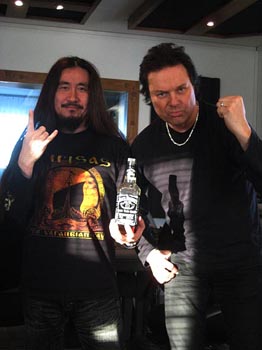 Q&A:
What's the story behind the band name Bellfast?
City of Ireland. It's our bassplayer who came up with the name when he was very young. It's fits our style too.

How come you picked the album title "Insula Sacra"?
Insula Sacra is latin and it means Sacred Island. In ancient times that was also the name for Ireland.

What are the lyrics about on the album?
Ancient Myths, Souls of Vikings, Ireland & Heavy Metal.

Which song from the new album are you looking forward to play live the most?
Celtic drum. It's a good and fun song to do live.

Any guests on the album?
Noa (Discordia) sings on "The Druid Song"
Fumihiko Kitsutaka (Kinniku Shojo Tai & X.Y.Z.->A) guitarsolo on "Sail Under the Midnight Sun".
He is a big fan of Michael Schenker & Yngwie Malmsteen. He now plays in X.Y.Z.->A with singer of Loudness Minoru Niihara.

How come you picked the Sonic Train Studios to mix the album?
Andy is my hero.I've been a big King Diamond fan since I was young. And I've heard many of the albums that he have worked on and they're all great.
He knows heavy metal, black metal, every style of metal.
Never seen King Diamond live in Japan ( K.D. have never played there ever!!!!) so I went to see King Diamond in Budapest, Hungary instead.

What are your favorite bands?
King Diamond and Rainbow.

What's your favorite singers?
Bruce Dickinson is my nr.1 favorite but I also like Ronnie James Dio, Joe Lynn Turner, Ian Gillan & David Coverdale.
But Bruce is special. He is melodic and so wild, I like that.

What's your all time favorite album?
Rainbow: Long Live Rock And Roll. The album is called Gates Of Babylon in Japan.

Any plans to record or play any covers live?
No covers recorded but live we have been playing We Don't Need A Reason (Dare) and Alexander The Great (Iron Maiden).

What bands have you toured/played gigs with?
Only local bands so far.

And what bands would you like to tour with?
Turisas would be cool to tour with.

Any plans to come and play in Sweden?
No plans yet but I hope very much. Maybe something here after the album get released in Europe.

What is the best moment in this band so far?
NOW!!!! Being part of magic that is going on with the songs while Andy is mixing our debut album is fantastic.

What are the plans for 2010?
Finish up the record, do lots of gigs both in Japan and Europe I hope. We will also start working on our next album this year.

Bellfast comments on:

Sonic Train Studios:
It's great. Many Japanese studios are just concrete buildings with no windows and the engineer just sits concentrated and watch the waves on the screen with headphones. Here's so different.

Andy La Rocque:
He's is great in every possible way.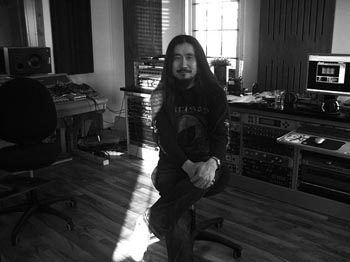 Varberg:
We have been around a little. Andy drove us around the seaside and we have been to the castle. Varberg is a very beautiful city.
(Koh were joined on the trip to Sweden by his Japanese friend and heavy metal reporter/photographer Yuzi Okumura -see his blog http://naniwamtl.exblog.jp
.....................................................
Andy Flash Report 3/3-2010