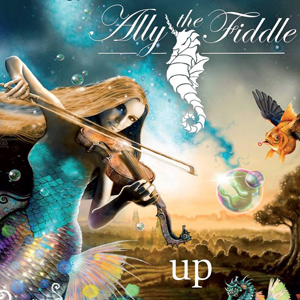 Progressive violin-rock/metal som infolappen förtäljer är kanske inte ett begrepp vi är så vana vid. Grundaren Ally Storch som är klassisk skolad violinist frontar sin konstellation med violin och sång. Här presenteras en variant där violinen tar över mycket från de mer vanliga gitarrspelet i progressive metal. Vi får dock betydligt fler influenser presenterade som jazz/fusion, 70-talsvibbar och ett hopkok från de klassiska till experimentella. Med andra ord en varierad presentation av diverse musikstilar med den gemensamma nämnaren violinen i centrum.
Med på albumet återfinns även gästmusiker som Marco Minnemann (The Aristocrats/The Mute Gods/Steven Wilson), Jen Majura (Evanescense), Rockviolinisten Jerry Goodman den legendariske tillika en av Ally`s idoler från 70-talets fusionenband The Flock and Mahavishnu Orchestra.
Plattan är i huvudsak instrumental och kanske inte en som direkt sätter sig med sin breda variation över de olika musikstilarna. Med andra ord här krävs en del genomlyssningar men snart fastnar spår som Living in a Bubble där rockmusiken tar överhand. Tree en något lugn lågmält alster som efterhand drar i de högre taktspakarna. Center Su(o)n även här lite rockigare toner och på spåret The Path där känns en del vibbar från 70-talets Ekseption.
Ett något svårbeskrivligt album som ändå tilltalar om en liten bit i taget.
Ally the Fiddle – Up
Gentle Art Of Music
01 Sisyphos
02 Aphotic Zone
03 The Bass Thing
04 The Path
05 Tree
06 Try to stop me
07 Living in a Bubble
08 Entering Stratosphere
09 Center Su(o)n
10 Surfing with the Alien (Bonustrack)
https://www.facebook.com/AllyTheFiddleBand
Betyg:7/10
Conny Myrberg