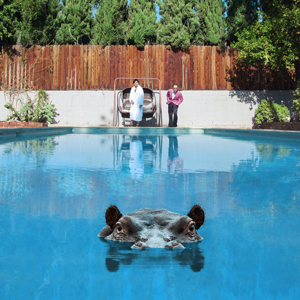 Min och bröderna Maels väg har korsats några gånger genom livet. Första gången var 1979 då Beat the clock var en mindre hit. Därefter diggade jag Music that you can dance to 1986. Sedan var det Walk down the memory lane 1989. 1995 släppte de några techno-trance singlar som jag gillade lite. Därefter tystnad fram tills nu. (de har fortsatt men inte nått till mina öron vill säga)
Sparks bildades runt 1970 och har således en lång historia bakom sig. Sångaren Russel Mael är idag 68 år men det hörs inte. Han låter precis som han alltid har gjort. Brodern Ron (med den lilla roliga mustaschen och den halvgalna minen) har hunnit fylla hela 72 år. Detta är dock inget som hindrar dem att släppa samma crazy pop som de alltid gjort. Det låter väldigt mycket 1970-tal om denna produktion som de står för själva. Tre singlar har redan släppts från detta album – Hippopotamus, Edith Piaf och What the hell is it this time? De låter som typiska Sparks-låtar i mina öron. Musiken är lite svår att beskriva om ni inte hört dem förut. Det låter lite bowie-glammigt, lite kabaret och lite pop i en enda mix. Musiken är oftast byggd på pianoackord.
Allting låter dock snyggt och välgjort och gillar man dem sedan tidigare finns det ingen anledning att bli besviken. Det känns som tiden stått stilla. Denna skiva skulle lika gärna kunna vara gjord 1978 typ. Inga flirtar med moderna ljud överhuvudtaget. Kanske inget jag själv kommer att lyssna på så mycket men kul att de låter så vitala fortfarande ändå. Respekt!
Favoritspår: Edith Piaf
Sparks – Hippopotamus
BMG/Infectious
1.Probably Nothing 1:21
2.Missionary Position 4:18
3.Édith Piaf (Said It Better Than Me) 4:32
4.Scandinavian Design 4:10
5.Giddy Giddy 3:10
6.What the Hell Is It This Time? 4:03
7.Unaware 3:54
8.Hippopotamus 3:47
9.Bummer 3:58
10.I Wish You Were Fun 4:04
11.So Tell Me Mrs. Lincoln Aside from That How Was the Play? 4:00
12.When You're a French Director" (featuring Leos Carax[2]) 2:45
13.The Amazing Mr. Repeat 2:59
14.A Little Bit Like Fun 3:57
15.Life with the Macbeths 4:12
https://www.facebook.com/sparksofficial/
Betyg: 6 / 10
Peter Dahlberg