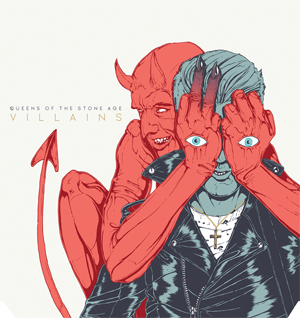 Skam till sägandes är jag en novis i den värld som heter Queens of the Stone Age. Jag blir därför lite paff när den här skivan inleds som en sorts korsning mellan Ultravox och David Bowies så kallade Berlintrilogi. Det kanske är helt och hållet väntat för den initierade, men för mig kommer kombinationen mellan bitande gitarrer, teatralisk sång och svepande vintage-syntar som en överraskning. Så fortsätter det sedan, skivan igenom. En bångstyrig, superdramatisk rockmusik som hämtad från 70-talets två tyska stater snarare än från det USA som är bandets hemvist. Är det någon jänkare som liknar detta, är det väl Iggy Pop. Symtomatiskt är att bandet även har sidoprojektet Post Pop Depression tillsammans med nämnde estradör.
Favoritlåtar? Dit räknas "Head like a haunted house", en galen halvpunk som för tankarna till Bob Hund. Hit hör "Un-reborn again" med snygga stråkar och rena Robert Fripp-gitarrerna. Här hör även "The evil has landed" hemma, en cabaretrock som mot slutet förvandlas till Status Quo. Och så blir jag barnsligt förtjust i slutnumret, den vemodiga dansgolvsrökaren "Villains of circumstance".
Nu är det jag som hugger tänderna i bandets tidigare katalog. Sent ska symfaren vakna.
Queens of the Stone Age – Villains
Matador Records
Feet Don't Fail Me
The Way You Used to Do
Domesticated Animals
Fortress
Head Like a Haunted House
Un-Reborn Again
Hideaway
The Evil Has Landed
Villains of Circumstance
https://www.facebook.com/QOTSA/
Betyg: 8/10
Daniel Reichberg