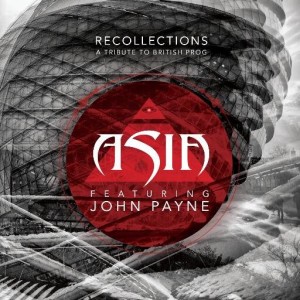 Åsikterna är förmodligen många där vokalisten och övriga gått skilda vägar och båda på något sett håller kvar bandtiteln. Personligen är dock John Payne favoritvokalisten i Asia när det begav sig. Här hyllas Brittisk prog med delvis ny line-up. Resultatet måste jag ändå tillstå är av varierande kvalitet. Ljudbilden känns kanske inte som den mest genomarbetande även om måhända albumet inte är menat som en ny fullängdare utan mer en lättsammare samlings dito?
Brittisk prog har enligt undertecknad alltid varit i spetsen även om länder som Polen och kanske framförallt vårt eget land bidrar alltmer med kvalitativa band. Här får vi ändå en rad "hyfsade" varianter som Camels Highway Of The Sun där låten känns som en typiskt Asia tolkning. It Can Happend från Yes levereras med mer blandning av nära Yes toppat med Payne inslag. UK's Nothing to Lose är ändå den som får betecknas favoritspår på hyllningsalbumet.
Ni som kan erat Asia kommer säkert ihåg två släpp av "demos/spår ej med på originalplattorna" med titlarna Archiva. Här kommer en radiovänlig variant, lättlyssnad och okej som bakgrundmusik.
Asia ft. John Payne – Recollections "A Tribute To British Prog"
Water Music Records
SIRIUS originally by the Alan Parsons Project
EYE IN THE SKY originally by the Alan Parsons Project
COURT OF THE CRIMSON KING originally by King Crimson
HIGHWAYS OF THE SUN originally by Camel
I KNOW YOURE OUT THERE SOMEWHERE originally by the Moody Blues
IT CAN HAPPEN originally by Yes
LAND OF CONFUSION originally by Genesis
LOCOMOTIVE BREATH originally by Jethro Tull
ROCK AND ROLL STAR originally by Barclay James Harvest
NOTHING TO LOSE originally by UK
LUCKY MAN originally by Emerson Lake and Palmer (ELP)
Betyg: 6/10
Conny Myrberg