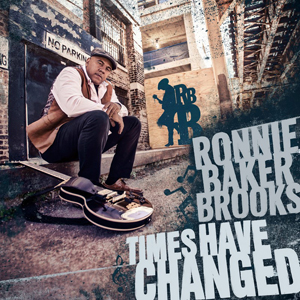 Times have changed är bluesmusikern Ronnie Baker Brooks fjärde soloalbum sedan debuten Golddigger 1998. Hans musik hämtar sin näring från 60- och 70-talets soul och r´n´b-scen och han är en flitig tolkare av bluesrelaterade artister från den eran.
I samarbete med producenten och trummisen Steve Jordan har Ronnie skapat ett album som gungar bekvämt mellan årtiondena. Att Jordan gett ut en instruktionsvideo för trumslagare som heter The groove is here säger det mesta. Låtmaterialet består mestadels av covers och bidrar till den stilmässiga variationen på plattan. Ibland får jag känslan av att lyssna på soundtracket till en uppföljare till filmen The Commitments och ibland dyker det upp partier som påminner om artister som James Brown och Stevie Wonder. I Curtis Mayfields "Give me your love (love song)" gästar Angie Stone vilket ger klassikern en modern soultouch. Joe Tex ofta tolkade r´n´b-ärta "Show me" och Eric Clapton/Robert Cray-komponerade balladen "Old love", i vilken Bobby "Blue" Bland gör ett gästinhopp, är mer originaltrogna. Den största överraskningen och därtill albumets bästa spår är titellåten. Den gungar igång som om den vore skriven och framförd av Robert Cray och Ronnie visar att han minsann också kan både skriva, spela och sjunga som de stora. Den allvarsamma betraktelsen över världens tillstånd förstärks genom ett inhopp av hip hop-artisten Al Kapone, vilket ger låtens avslutning vissa likheter med Coolios "Gangsta´s paradise" (hitlåten i Michelle Pfeiffer-filmen Dangerous minds).
Times have changed är en medryckande och cool platta men brister lite i originalitet. Med fler egenkomponerade låtar och färre gäster kanske lyssnaren skulle få en bättre bild av vem Ronnie Brooks Baker är. För det han visar upp här får i alla fall mig att vilja höra mer.
Ronnie Baker Brooks – Times have changed
Provogue/Mascot
1. Show Me (feat. Steve Cropper)
2. Doing Too Much (feat. "Big Head" Todd Mohr)
3. Twine Time (feat. Lonnie Brooks)
4. Times Have Changed (feat. Al Kapone)
5. Long Story Short
6. Give Me Your Love (Love Song) (feat. Angie Stone)
7. Give The Baby Anything The Baby Wants (feat. "Big Head" Todd Mohr & Eddie Willis)
8. Old Love (feat. Bobby 'Blue' Bland)
9. Come On Up (feat. Felix Cavaliere & Lee Roy Parnell)
10. Wham Bam Thank You Sam
11. When I Was We
http://www.ronniebakerbrooks.com/
https://www.facebook.com/ronniebbrooksmusic
Betyg: 7/10
Jukka Paananen