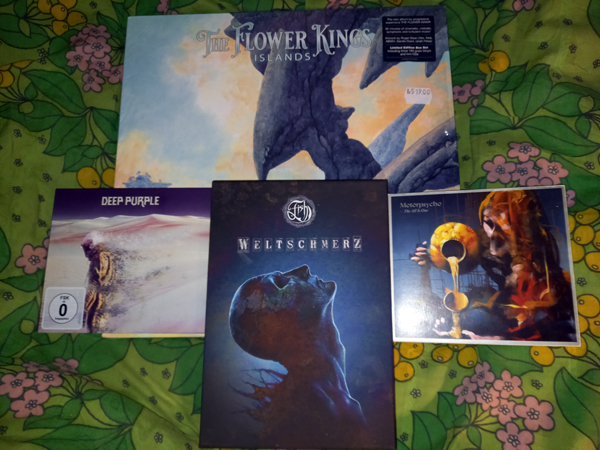 Årets tio bästa album, enligt eder ödmjuke:
1. FISH – WELTSCHMERZ
Adjö, säger Fisken med en in på märgen-känslig dubbel. Med den mogne herrens röst begår den gamle Marillion-mannen eventuellt karriärsbästa.
2. MOTORPSYCHO – THE ALL IS ONE
More is more, som Yngve sa. De psykedeliska och melodiösa transhårdrockarna gör sig bäst i det dubbla formatet.
3. DEEP PURPLE – WHOOSH
Omisskännlig Deep Purple, även om hårdrocklegendarerna smashar in en eller annan överraskning. Ian Gillan håller än.
4. THE FLOWER KINGS – ISLANDS
Likt tjuren Ferdinand växte skivan. Och VÄXTE! Roine Stolt med vänner kan lägga ännu en formidabel symfrockstund till handlingarna.
5. KANSAS – THE ABSENCE OF PRESENCE
De amerikanska progrockarnas katalog är lite av en bergochdalbana. 2020 når man upp till ett verkligt färgsprakande krön.
6. OZZY OSBOURNE – ORDINARY MAN
Kul att the prince of darkness ännu mäktar med så bra musik. Stor kredd ska dock gå till producenten/gitarristen Andrew Watt.
7. NEAL MORSE – SOLA GRATIA
Efter några i mitt tycke tristare plattor är de storslagna albumens nestor tillbaka i toppen. Konceptskivan handlar om aposteln Paulus.
8. VIOLENT SILENCE – TWILIGHT FURIES
Uppsalas högst originella metalliska proggers bjuder på massor av syntar i allsköns ljud samt ofta närmast thrashiga trummor.
9. NOVARUPTA – MARINE SNOW
Sludge? Post metal? Det är svårt att artbestämma Alex Stjernfeldts projekt. Men det måste man ju inte heller.
10. LUNATIC SOUL – THROUGH SHADED WOODS
Mariusz Duda från Riverside bjuder på mjukhårdrockprog med massor av beröring. Polens bästa!
Hedersomnämnande:
* RITUAL – GLIMPSES FROM THE STORY OF MR BOGD
Bara en EP, vilket verkligen inte är så "bara" i Rituals förtrollade värld. Efterlängtat? Bara förnamnet!
* ASTRAKHAN'S SUPERSTAR EXPERIENCE
En liveskiva, men svenska Astrakhans fenomenala hårdrocktaponing av Jesus Christ Superstar bara MÅSTE in.
De 25 hetaste bubblarna, ej rangordnade:
* PAUL MCCARTNEY – MCCARTNEY III

* PAIN OF SALVATION – PANTHER
* BLUE ÖYSTER CULT – THE SYMBOL REMAINS
* BON – CHRISTER PETTERSSON
* HAKEN – VIRUS
* DENNIS DE YOUNG – 26 EAST VOLUME 1
* ALCATRAZZ – BORN INNOCENT
* VULKAN – TECHNATURA
* RICK WAKEMAN – THE RED PLANET
* WOBBLER – DWELLERS OF THE DEEP
* PREHISTORIC ANIMALS – THE MAGICAL MYSTERY MACHINE
* WOLVER – ACT ONE: IT STARTS WITH A BOW
* THE MOMMYHEADS – NEW KINGS OF POP
* FUTURE ELEPHANTS? – HUMANS PASSIN' THRU
* STURGILL SIMPSON – CUTTIN' GRASS, VOL.1
* TAYLOR SWIFT – FOLKLORE
* PAUL WELLER – ON SUNSET
* REIN – REINCARNATED
* CATS IN SPACE – ATLANTIS
* GATHERING OF KINGS – DISCOVERY
* STURGILL SIMPSON – CUTTIN' GRASS VOL. 2
* …AND YOU WILL KNOW US BY THE TRAIL OF DEAD – X. THE GODLESS VOID AND OTHER STORIES
* JG THIRLWELL & SIMON STEENSLAND – OSCILLOSPIRA
* AYREON – TRANSITUS
* BETTS/ALLMAN BAND – BLESS YOUR HEART
…och så ytterligare 165 skivor som förgyllt mitt 2020, så det blir 200 jämnt:
PUSCIFER – EXISTENTIAL RECKONING
HENRIK PALM – POVERTY METAL
IGORRR – SPIRITUALITY AND DISTORTION
THE 1975 – NOTES ON A CONDITIONAL FORM
TIGER MOTH TALES – TRY IT, YOU MIGHT LIKE IT
THE PRETENDERS – HATE FOR SALE
CANTONA GUT SYSTEM – YOKO:THE BEST BEATLE
JAKKO M JASZYK – SECRETS AND LIES
BIFF BYFORD – SCHOOL OF HARD KNOCKS
DARK TRANQUILLITY – MOMENT
DEAD KOSMONAUT – GRAVITAS
HEDVIG MOLLESTAD – EKHIDNA
PRINS SVART – UNDER JORD
DUKES OF THE ORIENT – FREAKSHOW
WINDOM END – PERSPECTIVE VIEWS
PETER CARLSOHN'S THE RISE – OUT OF THE BLUE
BLACKBALLED – ELEPHANT IN THE ROOM
FATAL FUSION – DISSONANT MINDS
THE TANGENT – AUTO RECONAISSANCE
MASTER MASSIVE – BLACK FEATHERS ON THEIR GRAVES
RRRAGS – HIGH PROTEIN
DIMMA – IMORGON BÖRJAR ALLTING OM
FREEWAYS – TRUE BEARINGS
CALIGULA'S HORSE – RISE RADIANT
SHAMAN ELEPHANT – WIDE AWAKE BUT STILL ASLEEP
WITCHSKULL – A DRIFTWOOD CROSS
VANDENBERG – 2020
DÖDA HAVET – TID OCH RUM
STONEFACE – BAD LUCK WORLD
STONEWALL NOISE ORCHESTRA – DEATHTRIPPER
BY LIGHTNING – STREETLIGHTS
ELECTRIC MOB – DISCHARGE
PENDRAGON – LOVE OVER FEAR
BIßMARCK – ONEIROMANCER
FRED PECK'S – TRY IT
KING WITCH – BODY OF LIGHT
NEKTAR – THE OTHER SIDE
TREVOR BOLDER – SAIL THE RIVERS
BANDOLIER KINGS – WELCOME TO THE ZOOM CLUB
NOVENA – ELEVENTH HOUR
SHAGGY – SCARECROW
DIRTY SHIRLEY – DIRTY SHIRLEY
SONS OF APOLLO – PSYCHOTIC SYMPHONY
DEWOLFF – TASCAM TAPES
U.D.O – WE ARE ONE
BRIGHT EYES – DOWN IN THE WEEDS, WHERE THE WORLD ONCE WAS
FATES WARNING – LONG DAY GOOD NIGHT
WIRE – 10:20
PYMLICO – ON THIS DAY
STRYPER – EVEN THE DEVIL BELIEVES
NEPTUNE – NORTHERN STEEL
TORCH – REIGNITED
BIFFY CLYRO – A CELEBRATION OF ENDINGS
JACK SLAMER – SUN SOUL HEALING
NAPALM DEATH – THROES OF JOY IN THE JAWS OF DEFAITISM
RIKARD SJÖBLOMS GUNGFLY – ALONE TOGETHER
BON JOVI – 2020
INSTANT CURTAIN – LET'S TEAR US APART
MELANIE C – S/T
ANNA VON HAUSSWOLF – ALL THOUGHTS FLY
LYKANTROPI – TALES TO BE TOLD
SECOND SUN – KAMPEN GÅR VIDARE
WHITE DOG – WHITE DOG
DEREK SHERINIAN – THE PHOENIX
SOULS OF TIDE – BLACK MAGIC
CURSE OF FATE – MINDWEAVER
ALANIS MORRISETTE – SUCH PRETTY FORKS IN THE ROAD
NADINE SHAH – KITCHEN SINK
ROISIN MURPHY – ROISIN MACHINE
DECLAN MCKENNA – ZEROS
SPARKS – A STEADY DRIP, DRIP, DRIP
FUTURE ISLANDS – AS LONG AS YOU ARE
RÅÅ – DJUNGELNS LAG
RYMDEN – SPACE SAILORS
PARALYDIUM – WORLDS BEYOND
LEMON TWIGS – SONGS FOR THE GENERAL PUBLIC
TOMMY LEE – ANDRO
JOHAN AIRIJOKI – FÅR JAG VARA DIN KILLE?
NIELS GORDON – LAND
WHITE DENIM – PERFORMANCE
X MARKS THE PEDWALK – TRANSFORMATION
PALLBEARER – FORGOTTEN DAYS
BOOMTOWN RATS – CITIZENS OF BOOMTOWN
THE NIGHT FLIGHT ORCHESTRA – AEROMANTIC
ENSLAVED – UTGARD
BRUCE SPRINGSTEEN – LETTER TO YOU
KADAVAR – THE ISOLATION TAPES
MACABRE – CARNIVAL OF KILLERS
GORILLAZ – SONG MACHINE, SEASON ONE: STRANGE TIMEZ
HÄLLAS – CONUNDRUM
JARVIS COCKER – BEYOND THE PALE
JOHN FRUSCIANTE – MAYA
PATTERN-SEEKING ANIMALS – PREHENSILE TALES
ARMAGEDDA – SVINDELDJUP ÄTTESTUP
QUANTUM – THE NEXT BREATH OF AIR…
MR BUNGLE – THE RAGING WRATH OF THE EASTER BUNNY DEMO
KYLIE MINOGUE – DISCO
SOLSTAFIR – ENDLESS TWILIGHT OF CODEPENDENT LOVE
REB BEACH – A VIEW FROM THE INSIDE
JOHN PETRUCCI – TERMINAL VELOCITY
NYNNINGEN – ALLT BÖRJAR KLARNA
FLAMING LIPS – AMERICAN HEAD
PALE HONEY – SOMETIME, ALONE
BILLY CURRIE – THE BRUSHWORK OBLAST
SODOM – GENESIS XIX
SVARTKONST – BLACK WAVES
BOB DYLAN – ROUGH AND ROWDY WAYS
GREEN CARNATION – LEAVES OF YESTERYEAR
TIGRAN HAMASIYAN – THE CALL WITHIN
AC/DC – POWER UP
JUMP – BREAKING POINT
SEPULTURA – QUADRA
NEIL YOUNG – HOMEGROWN
PALOMA FAITH – INFINITE THINGS
CHRIS STAPLETON – STARTING OVER
GÖSTA BERLINGS SAGA
AIRBAG – A DAY AT THE BEACH
WESERBERGLAND – AM ENDE DER WELT
FLEET FOXES – SHORE
CHRISTIAN GABEL – MIKROFILM
DORIS BRENDEL & LEE DUNHAM – MASS HYSTERIA
KAIRON: IRSE – POLYSOMN
RAIN – SINGULARITY
ALIEN – INTO THE FUTURE
IIRIS VILJANEN – EN FINSK JUL
DYBLE LANGDON – BETWEEN A BREATH AND A BREATH
KALEIDOREAL – LOVE'S BRIGHT LIGHT
JACOB COLLIER – DJESSE VOL. 3
FIFE AUGURY – THE SHAPE OF A TREE
MARK KELLY'S MARATHON – s/t
SCALADEI – THE SWING OF THINGS
WHISPERS IN THE SHADOW – YESTERDAY IS FOREVER
KARFAGEN – BIRDS OF PASSAGE
THE OUTLAWS – DIXIE HIGHWAY
MY DYING BRIDE – THE GHOST OF ORION
YOUTH MEETS JAH WOBBLE – ACID DUB PUNK APOCALYPSE
MARIA MCKEE – ROSE CITY BAND
PHOEBE BRiDGERS – PUNISHER
SONORIDE – MOON
PURE REASON REVOLUTION – EUPNEA
CORNERSHOP – ENGLAND IS A GARDEN
ULF LUNDELL – TELEGRAM
BILL CALLAHAN – GOLD RECORD
MAJESTICA – A CHRISTMAS CAROL
LIK – MISANTHROPIC BREED
VANDEN PLAS – THE GHOST EXPERIMENT – ILLUSION
MAGNUM – THE SERPENT RINGS
THE BACKSTAGE – ISOLATION
ANE BRUN – HOW BEAUTY HOLDS THE HAND OF SORROW
FRED FRITH – LOCK ME UP LOCK ME DOWN
TAYLOR SWIFT – EVERMORE
THE LIGHTBRINGER OF SWEDEN – RISE OF THE BEAST
NICK LOWE AND LOS STRAITJACKETS – WALKABOUT
EELS – EARTH TO DORA
JOEY MOLLAND – BE TRUE TO YOURSELF
SAMUEL HÄLLKVIST – EPIK, DIDAKTIK, PASTORAL
JAMES TAYLOR – AMERICAN STANDARD
THEIR DOGS WERE ASTRONAUTS – DREAMCATCHER
PEARL JAM – GIGATON
MERRYWEATHER/STARK – ROCK SOLID
NIK KERSHAW – OXYMORON
ALL THEM WITCHES – NOTHING AS THE IDEAL
SQUAREPUSHER – BE UP A HELLO
HAWKWIND LIGHT ORCHESTRA – CARNIVOROUS
FREDDY AND THE PHANTOMS – A UNIVERSE FROM NOTHING
Spellista med tio fina smakprov:
https://open.spotify.com/playlist/4zciblM4o3REdkObgZD3Iw


GOD JUL OCH GOTT NYTT ÅR!
Daniel Reichberg